Sorry but Carl Cox Global show has now come to an end.
We were really lucky to have Global on Phuket FM Radio for over 4 years and wish Carl continued success for the future.
Carl Cox brought his weekly show Global to 91.5 & 102.5 FM Phuket Island Radio every Wednesday night from 10pm. This was an awesome show to have on Phuket FM radio and great mid-week filler.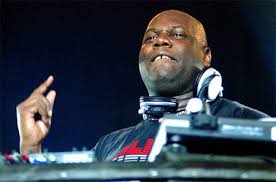 Carl Cox's dance music sets, from his first gigs at London's Shoom to his acclaimed residency at Space in Ibiza, have made him a legend. Although his style is focused on techno, it incorporates influences from house, breaks and drum 'n' bass – but always with that "Carl Cox edge." His radio mixes are broadcast around the world by both FM Radio and Internet radio stations, making him one of techno's global figures.
Carl Cox the beginning
Carl Cox started out spinning disco, electro and rare groove in the late 1970's and early 1980's. With the advent of Chicago and acid house in the late 1980's, he quickly became one of the central figures of the dawning British rave scene. After a brief flirtation with pop stardom (his first single, the piano-house I Want You made the Top 30 in the U.K.), Carl Cox solidified his techno-based sound with the dance music mix albums F.A.C.T., The Sound of Ultimate B.A.S.E., and Pure Intec.
As a DJ, Carl Cox has headlined dance music festivals from London's SW4 to Creamfields Buenos Aires to Miami's Ultra Music Festival. He regularly appeared on BBC Radio One FM's Essential Mix program, and currently hosts the Global radio show, which can be heard both on FM radio and as a free Internet radio stream every Wednesday at 10pm on 91.5 and 102.5 FM Phuket Island Radio.
Carl Cox Global…awesome
In addition to his numerous dance music mixes, singles, and remixes, Carl Cox has also recorded four artist albums, including 2011's All Roads Lead to the Dancefloor. He started Worldwide Ultimatum, his first record label, in the 1990's; since then, he's gone on to found the influential dance music labels Intec (and Intec Digital) and 23rd Century Records. Cox made his acting debut in the dance music film Human Traffic, and played himself in 2004's It's All Gone Pete Tong.
Phuket Island Radio presents…
91.5 and 102.5 FM Phuket Island Radio are delighted to have Carl Cox Global each and every week online via our radio player and through the iPhone and Android mobile applications.
There's more information about Phuket FM Radio here and the DJ line up can be found here.
Tune in any night on 91.5 & 102.5 FM Phuket Island Radio from 10pm – midnight to hear some of the biggest names in the Electronic Dance Music Industry.
Lots more to read if you have time....…