Phuket Weather Radar is presented live.
Below you will find the wind direction and strength.
Covid 19 update for Phuket Island. As we move back to a new normal most businesses are open, wearing a face mask is compulsory, beachs are in prestine condition, unfortunately at this time there are no international flight, stay safe stay well.
There is also a live weather radar display, which can warn of rain storms approaching Phuket Island and the Andaman Region.
We have just updated the August through September outlook with additional information, including Windguru Phuket charts and Phuket Tidetables for each month. By the way if you do not know how to read a wind chart there is a full explanation on the page.
Coming soon daily live weather updates in audio format, just listen to get the Phuket Weather updates.
Phuket Island Wind Direction and Weather Forecast
Above is the Phuket Weather Radar showing wind direction and wind strength.
Below we present The Thai Meteorological Department Phuket Weather prediction usually updated every 15 minutes.
This is an excellent site for spotting incoming rain and storms throughout the Phuket Island and Andaman region. The image covers not only Phuket island but also Phang Nga Bay, The Similan Islands, Krabi Province, Phang Nga Bay and down through Phi Phi Island into Koh Lanta.
We have recently started to create Surf Reports the first one is HERE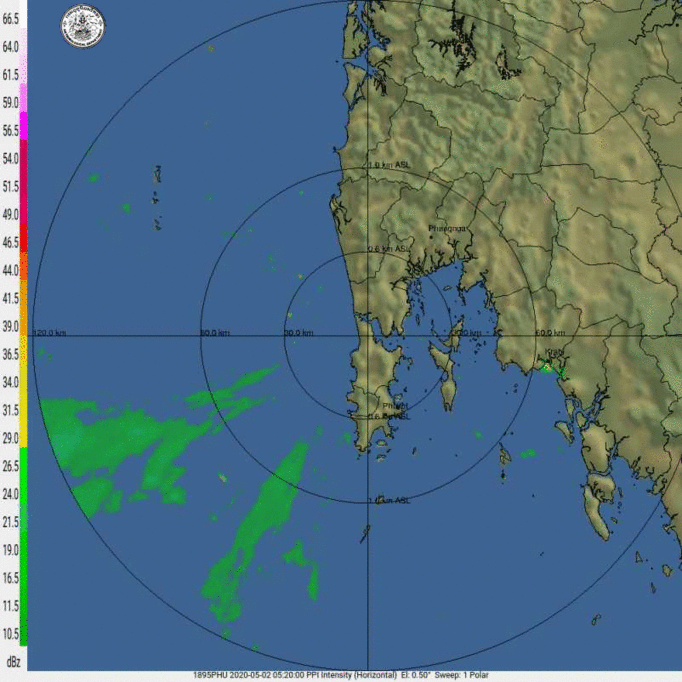 >